Historic Blackstone Revealed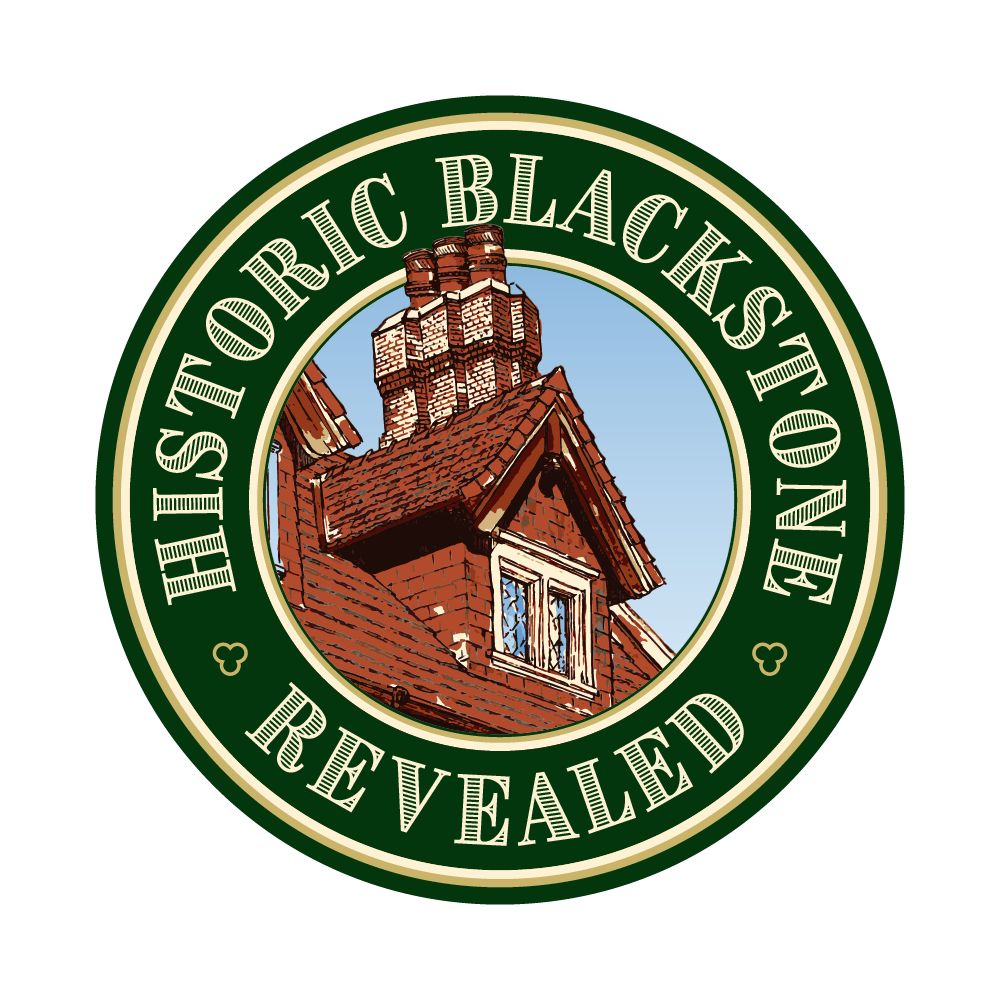 A tour of architectural gems reimagined for today.
In the Fall of 2022, the Blackstone Neighborhood Association (BNA) opened its doors revealing the architecture, history, and stories of its early 19th century properties to the public. More than 1500 people attended, enjoying the tour and the special events surrounding the experience. Sponsors and volunteers generously gave of their time and money to underwrite the costs. Together $50,000 was raised to help locally landmark properties in the neighborhood protecting them from major alteration or demolition. Together BNA will work to keep Blackstone's historic character alive for decades to come. 
Below is access to the 36-page booklet highlighting the history of the tour properties and the neighborhood along with videos sharing Blackstone stories from those who lived it and behind the scenes accounts from the architect and developer who made the restoration of the former Blackstone Hotel happen. Enjoy! 
With exciting developments coming to our neighborhood, we can certainly expect change. Whether it is new buildings, a Streetcar, new residences, our sleepy part of town is fast becoming a hot spot.
And with that change, our Neighborhood Association must grow to meet the demand of our new neighbors.
Pictures and details from the nine historic Blackstone properties, plus neighborhood history, highlights and other places of interest.
Historic Blackstone Revealed Videos
Memories of Omaha's Gold Coast

Mary Creighton McDermott Maxwell shares her memories of The Blackstone Hotel, the Farnam Street Commercial District and the people who called Omaha's Gold Coast home in the 1940s in this entertaining 20-minute talk in September 2022.  
The Schimmel Family and the Invention of the Reuben Sandwich 
In this October 2022 presentation, Mary Schimmel Bernstein shares memories of the Blackstone Hotel and her family who managed it from 1920 to 1968. Plus, she gives the definitive account of how the Reuben sandwich was invented at the Blackstone Hotel by her father, Bernard.
Using Historic Tax Credits to Restore the Former Blackstone Hotel 
Tom McLeay, owner and developer of the Kimpton Cottonwood Hotel, shares the story of restoring the former Blackstone Hotel, one of the last grand, historic hotels in Omaha. He explains why they did it, how they used historic tax credits and their commitment to making it a unique property. 
The Blackstone Hotel Restoration Story 
In this 18-minute presentation in 2022, Leo A Daly architects Dave Hawes and Martin Janousek share the research, discoveries, and challenges of restoring the historic Blackstone Hotel into the grand Kimpton Cottonwood Hotel we know today.
Kimpton Cottonwood Hotel
City of Omaha Mayor's Grant
Steve Martin & Amy Haddad
Maser Family Foundation
University of Nebraska Medical Center 
Physicians Mutual
Midtown Neighborhood Alliance
Blackstone Business Improvement District
Dundee Bank
GreenSlate Development
John Fox Design
Lund Corporation
Mutual of Omaha
Nebraska State Historical Society Foundation
Noddle Homes
Security National Bank
Tim Reeder/Better Homes & Gardens Real Estate
Suzanne & Rudy Kotula 
The Stuberg Family
The Maser Family
The Banse Family
The Farho Family
Phi Chi Medical Fraternity
First Central Congregational Church
Dundee Bank
The Lund Company
Kimpton Cottonwood Hotel 
Historic Blackstone Revealed Steering Committee
Mark Maser, Co-Chair
Kristine Gerber, Co-Chair
Barb Farho, Sponsorships
Kate Grabill, Events
Nicole Malone, Logistics
Rhonda Stuberg, Logistics
Committee
Curt Snodgrass, Treasurer
Blackstone Neighborhood Association
Executive Committee
Mark Maser, President 
Ron Banse, Vice President
Catharine Fogarty, Midtown Neighborhood Alliance Representative
Jim Farho, President Elect/BBID Representative
Scott Jones, Secretary 
Curt Snodgrass, Treasurer 
Rhonda Stuberg, Membership/Beautification  
Events Committee
Kate Grabill, Chair 
Jennifer Bettger
Fatima Basith 
Kate Brownrigg 
Jessica Covi 
John Fox
Victoria Halgren 
Stephanie Hansen 
Angie Hempel 
Jeanie Jones
Suzanne Kotula 
Cydney Koukol 
Beth Kramer 
Gabby Mormino 
Karen Nelsen 
Christine Nikunen 
Rhonda Wachholtz
Logistics Committee
Nicole Malone, Chair
Judy Alderman
Dana Flint
Nathan King
Sherri Moore
Deb Peterson
Rhonda Stuberg
Marketing
Kristine Gerber
Rachel Bythwood
Jared Cloudt
Katie Foster
Teresa Gleason
Hanscom Park Studio
Melissa Obermier
Tim Reeder
Wendy Wiseman
Speakers
Mary Maxwell
Mary Schimmel Bernstein
David Hawes, AIA 
Martin Janousek, AIA   
Jay Lund  
Parking
Lund Corporation
Midtown Montessori
University of Nebraska Medical Center
Printing
Physician's Mutual  
Volunteer Kickoff
B.G. Peterson Co.
Farnam House Brewing Co.
Nite Owl
Other Contributors
Infusion Brewery Company
Peggy Pavlik, Midtown Neighborhood Alliance
Diana Failla, Midtown Neighborhood Alliance
Tour Brochure Credits
Editor – Kristine Gerber
Design – Jared Cloudt
Historical Research – Kristine Gerber and Patrick Wyman
Copy Editing – Paul Ledwon
Current Photography – Nathan King, Rachel Bythwood, Tom Kessler and marketing photos from the Blackstone Plaza, Dundee Bank and the Kimpton Cottonwood Hotel  
Historical Photographs –From the Bostwick-Frohardt Collection, owned by KM3TV and on permanent loan to The Durham Museum.
Resources – National Register of Historic Places Nominations, The Omaha World-Herald Archives and Property Owner Interviews