BNA General Membership Meeting April 27
Please join your neighbors for the Blackstone Neighborhood Association General Membership Meeting Thursday, April 27. The event will begin at 6:30pm at the Cottonwood Hotel, 302 S. 36th Street in the Golden Spur Conference Room (use the main entrance, then take a short flight of stairs to the left of the elevators).

Our guest speaker is Jay Lund, GreenSlate Development. He will discuss the new construction project on Farnam Street between 37 & 38 streets as well as other projects. Bring your questions about this project, GreenSlate, the Cottonwood Hotel and the proposed streetcar.

We will conduct a brief association meeting following the presentation.

Mark your calendars for our next meeting – July 27 – when our guest speaker will be Brian Spencer from UNMC.
---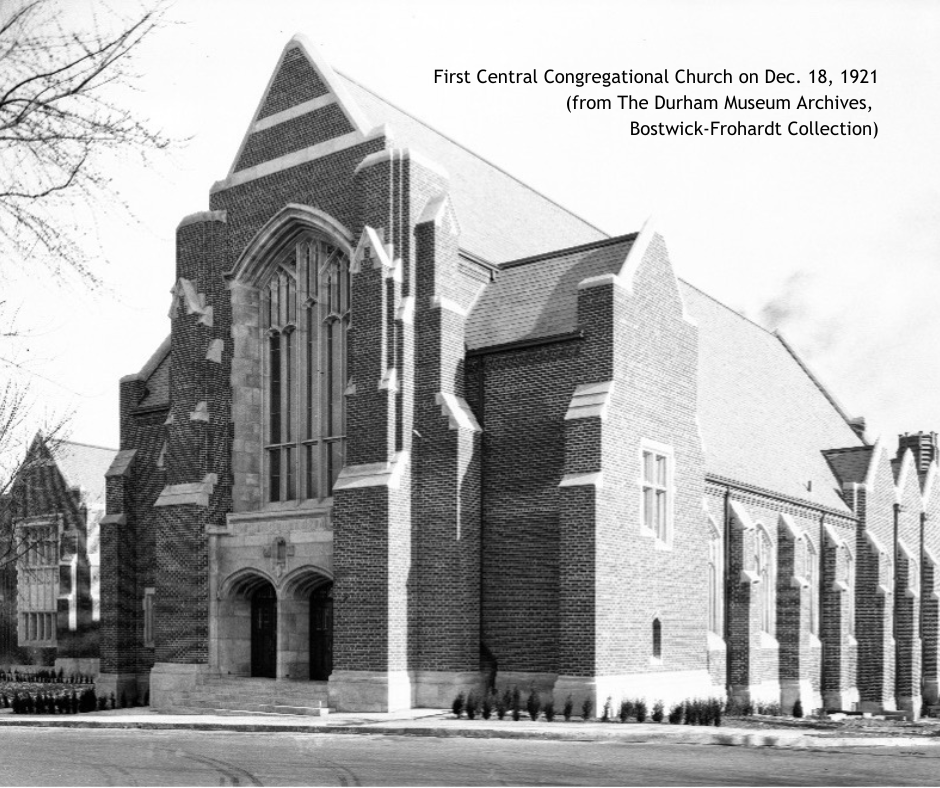 From the Neighborhood
Neighbors Old & New Love Our Blackstone Neighborhoood
by Mark Allen Maser, president, Blackstone Neighborhood Association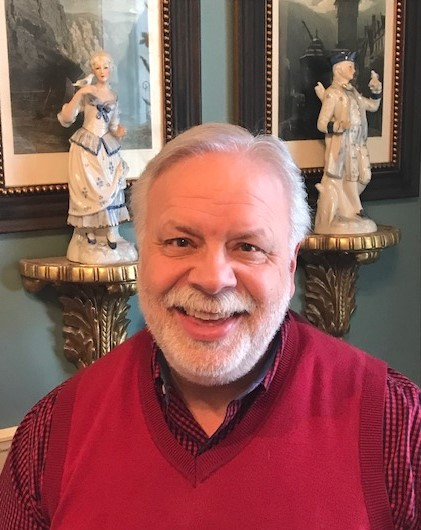 101 years!
First Central Congregational Church United Church of Christ at 36th and Harney recently celebrated this milestone. The congregation commemorated this event Sunday, March 5.
During the children's sermon, the Rev. Katie Miller asked if anyone had attended the consecration of the building in 1922. No one admitted to being there.
Lifelong congregant Wendy Wiseman, who was the emcee at the lunch following the service, asked me to speak on behalf of the neighborhood. While I talked about the fact that our neighborhood has changed repeatedly over the last 100 years, it dawned on me that really, the devotion of the neighbors to this part of town has remained the same.
Wiseman spoke of her passion for the church, as it holds so many memorable of life's guideposts – her baptism, her confirmation, her marriage, the laying to rest of her parents. Her son, Will Gustafson, spoke of how church members & friends helped to form him as a young man growing up.
Member since birth Chris Steffen talked of her parents bringing her up in the church while allowing her to come to her own religious beliefs. Today, she cannot imagine her life without her service to either the building or its members.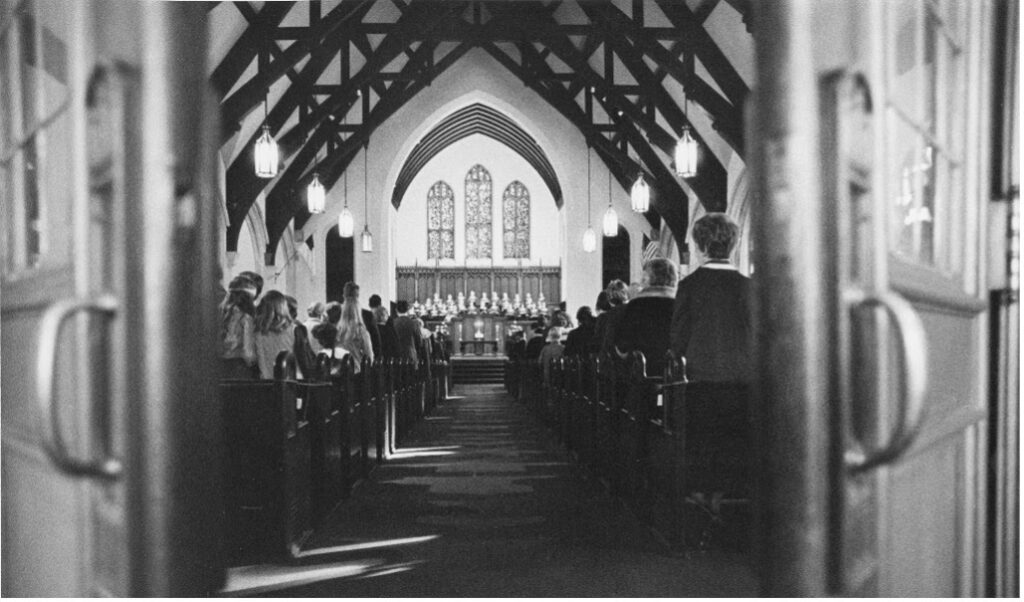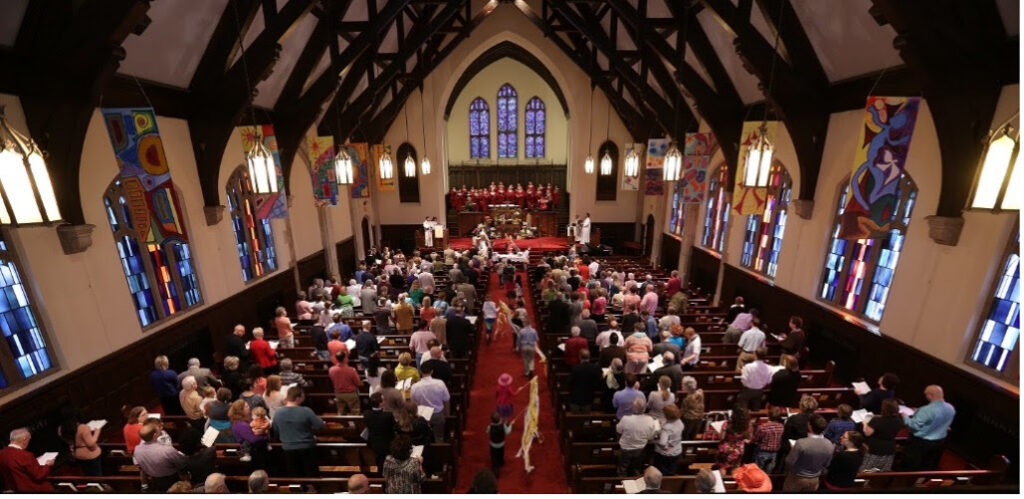 The Rev. Dr. Jim Harmon spoke during the congregational prayer about an elderly congregant whom he recently visited in the nursing home. She spoke of her late plumber husband who often came to the church to help with repairs. She remembered him always talking about how he looked upward in the Gothic revival sanctuary. This style of architecture with its vaulted ceilings is designed to inspire us to look heavenward.
While reflections on the past predominated the service and lunch, senior pastor Rev. Dr. E. Scott Jones and Justin Lowndes, co-chair of the Capital Campaign Implementation Committee, spoke about the congregation's future plans – both for the physical building and the spiritual health of the congregation.
It was a pleasure to meet with neighbors trying to improve themselves and the neighborhood. It was as true a century ago as it is today.
Read more about the church's history here.
******
Organizational Meeting for Neighborhood Local Landmarking Efforts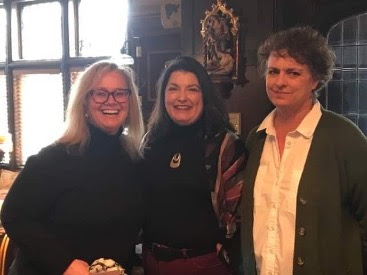 At a lunch meeting in late February, plans were laid for the Blackstone Neighborhood Association's next steps in its preservation plans to locally landmark properties.
How lucky are we to have the help of these qualified professionals? Pictured at right are Melissa Dirr Gengler, architectural historian; Kristine Gerber, local preservationist; and Shelley McCafferty, city preservation planner.
Stay tuned. There will be ways for you to help.
In the meantime, if you can help support our preservation efforts, please donate via the following link…thanks!
Preservation Project – Blackstone Neighborhood Association
Below, you will read about beautification plans as well as news from the neighborhood. If you can help with beautification, please reach out (see below). We can really use your help.
******
Please become a member of the Blackstone Neighborhood Association. You will get updates on what is happening, and your voice can be heard. Find more information about how to join here.
Join your neighbors as we blend our voices in guiding the direction of our district. Just send me an email. We can chat about how you'd like to get involved or how to get on the e-mail list.
Let's get busy.
---
It Takes A Village
Our villagers have been busy lately. Thanks are due to them for volunteering and making our neighborhood better.
IT'S ALMOST SPRING TIME – THAT MEANS IT'S TIME TO TALK PLANTERS!
Do you enjoy having flowers around where you live? Do you like to dig in the dirt and plant flowers? Then we have a great summer project for you!
The Blackstone Neighborhood Association has around 20 large planters lining our streets that need someone to adopt them, fill them with flowers and keep them watered, beginning in May until September.
The planters will be cleared of last year's plantings and topped with soil and fertilizer. Then we are trying something different this year. Instead of picking the flowers out for you, we are going to let you purchase your own flowers so that each planter has its own personal look created by you! If that makes you a bit nervous, don't worry, I will be available with some tips on how to choose appropriate plants and ideas to make it easier. Or, you can find some neighbor friends to help you plant and maintain. If you save your receipts, we will reimburse you up to a designated amount.
At some point during the summer, we will have a contest, and your neighbors will vote to select some winning planters in a variety of categories! Those master gardeners will receive a prize!
Sound like fun? If so, send me an email, and I will begin a list of those who are interested. If you have a specific planter in mind, I will reserve it for you, as long as someone hasn't beat you to it! Let's make our neighborhood beautiful with creative planters!
— Rhonda Stuberg, Beautification Chair, rstuberg@outlook.com
******
And all our thanks to the Blackstone Neighborhood Association Executive Committee. Their generosity of service to our neighborhood must be noted. You will find them listed in this newsletter.
Our thanks to Teresa Gleason, neighborhood art dealer and marketing professional, for her help with this newsletter. Find her at Ming Toy Gallery in Benson.
We need your help. We can always find a way to work together. But we especially could use you if you have experience with:
Graphic design
Website updating and technical wizardry
Social media
Newsletter article & story writing skills
Historic research
Social events
Beautification projects
Preservation projects
---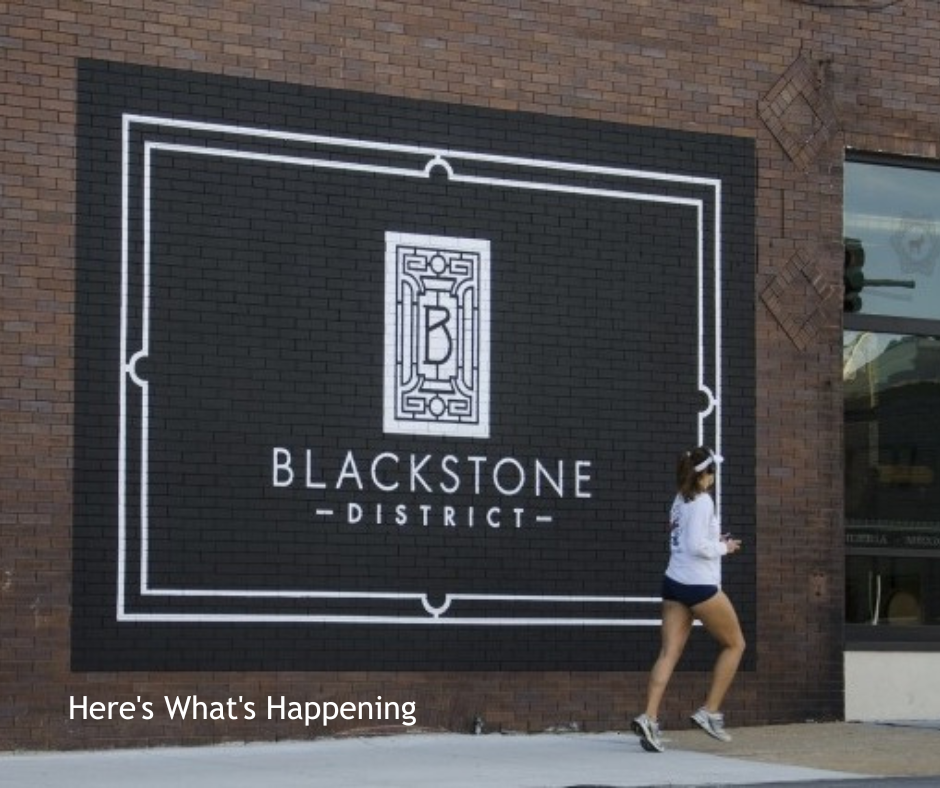 Neighborhood News
The Blackstone Business District is celebrating the beginning of spring Saturday, April 8, with Spring Fling – see details at right. It's also ramping up its Second Saturday program. Look forward to live music, DJs and more on the schedule. And don't forget to mark your calendars for Farman Fest Oct. 14. For the latest information, visit The Blackstone District.
******
BNA Enjoys Longtime Partnership with Midtown Neighborhood Alliance
Formed in 2004, the Midtown Neighborhood Alliance (MNA) is an alliance of 16 midtown neighborhood associations whose common mission is to preserve the integrity of and advocate for a vibrant community that is sustainable, secure, diverse, historically rich and economically strong.
The MNA advocates before city government on behalf of neighborhoods, awards yearly mini grants, recognizes exceptional landlords, and restores and maintains the tree canopy in midtown through the Midtown Retree Program.
The Blackstone Neighborhood Association (BNA) is a founding member of this organization. The BNA has received grants for our many programs and initiatives. It also has recently planted nearly 50 trees along the parkways in the neighborhood as part of MNA's Retree program.
MNA's mini grant and fiscal agency was instrumental in the success of BNA's Historic Blackstone Revealed fundraiser this past fall. Neighbors working together can affect outcomes that we might not be able to accomplish separately.
******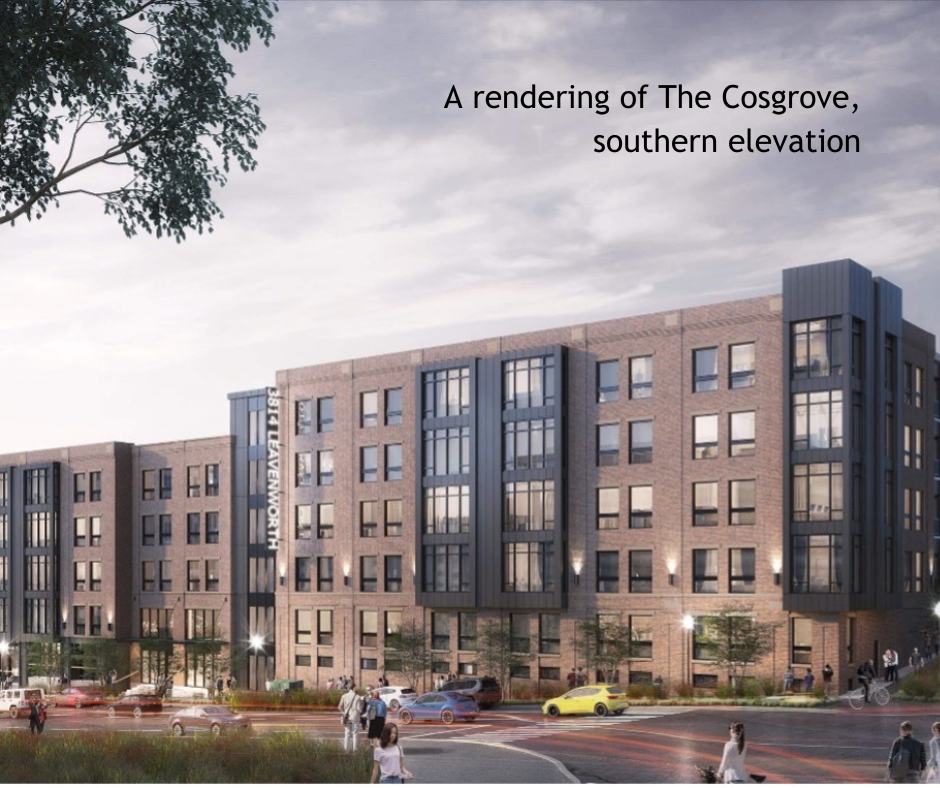 Intersection Now Open at 38th & Leavenworth Streets
The intersection of 38th & Leavenworth streets is now open for traffic. Drive safely. There are still some safety barriers in place.
 
The Burlington Company's Cosgrove Apartment Project is nearing (partial?) completion. Learn more about it at thecosgroveomaha.com.
 
We will soon have new neighbors.
******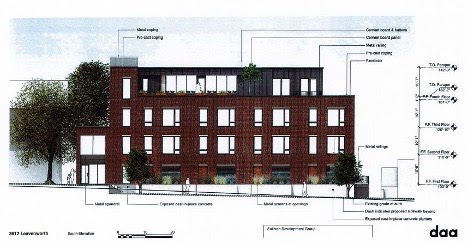 What's Coming to 3612 Leavenworth
Pictured above, a new development project proposed for 3612 Leavenworth. This would occupy the vacant lot. Charlie Sullivan of Sullivan Development said it would have 24 one-bedroom units with 20+ parking stalls on the first floor. Parking access will be from the alleyway behind.
******
Updates about The Proposed Midtown Streetcar
Omaha officials unveiled more information about plans for the city's streetcar March 7, including stops along the route, proposed lane layouts and potential vehicle designs. Omaha Streetcar Authority Omaha Streetcar – City of Omaha said that they're ready for the public to get a closer look at preliminary designs and give input on stop locations and ask questions.

Venue and destination stops would include the CHI Health Center Arena, Gene Leahy Mall, Mutual Tower, Orpheum Theater, Turner Park and UNMC.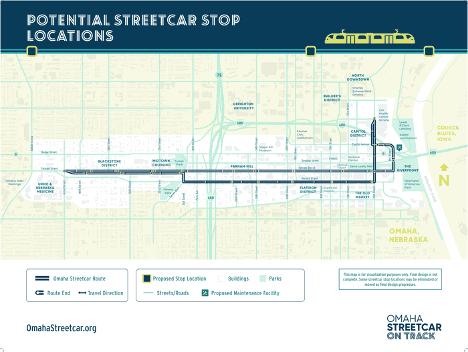 Others would be located at 10th Street and Capitol Avenue, 8th and Douglas streets, and along Farnam and Harney streets.

Farnam Street stops: 19th, 24th, 26th, 33rd, 37th, 39th, and 42nd streets*
Harney Street stops: 10th, 15th, 19th, 24th, and 26th streets
* = Blackstone stops in bold

For more information, visit March 7 Open House – PublicInput.com.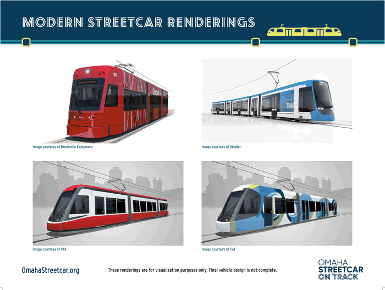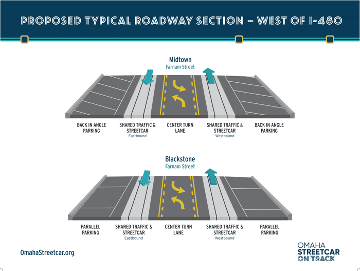 ******
UNMC Summer Street Construction Plans for Saddle Creek

This summer will be a busy one for UNMC's Saddle Creek Development Project.

Saddle Creek Public Improvements, a joint venture between UNMC and the City of Omaha, said construction soon will begin on new roadway connections, sidewalks and street lighting. Updated traffic signals will be constructed on Saddle Creek Road at the Emile Street intersection. A new traffic signal will be installed at 46th and Farnam streets. Spring construction is expected for the intersection pictured below: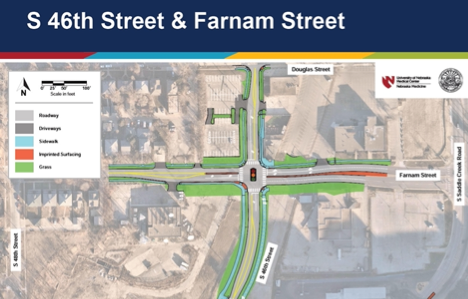 Read more about it at Work approaching around Saddle Creek Development | Newsroom | University of Nebraska Medical Center (unmc.edu).
******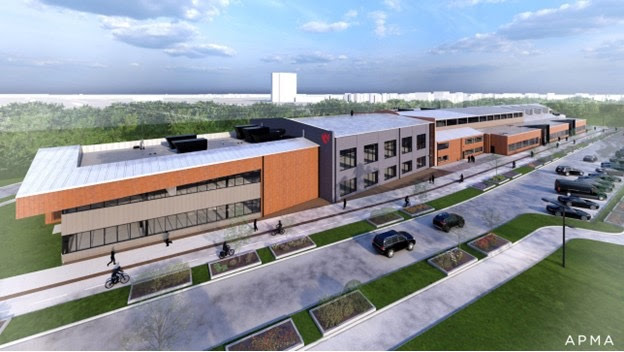 UNMC Project NExT
Mark your calendar to hear all about this and more from UNMC's Brian Spencer, Director of Campus Development. He will be our guest at the July 27 meeting.

Omaha was selected by the U.S. Government as one of five regional sites tasked with developing a federal program to bolster the nation's disaster response capacity. Project NExT, led by the University of Nebraska Medical Center and Nebraska Medicine, will be transformational for healthcare locally and nationally, expanding the Omaha campus by one-third. It will improve the readiness of the American health system to respond to a catastrophic disaster, another pandemic, accident or overt attack.

Project NExT is a public-private partnership involving the Departments of Defense, Health and Human Services, Veterans Affairs, Homeland Security and State, including various agencies within those Departments. Project NExT will improve education, expand research, provide additional clinical care, improve operational efficiency and provide various services to the federal agencies and departments involved. The program will expand federal medical surge capacity and improve the National Disaster Medical System. It will also make UNMC a joint medical facility for civilians and the military in preparation for a pandemic or natural disaster.

UNMC is planning to add new buildings to its campus at 42nd and Dewey St. Plans are still in process, but the new building is expected to be well over one million sq. ft. Demolition and site work are already under way. The building will be completed in stages, with the initial phase scheduled to open in 2025. UNMC will complete the final phases over the following five years. UNMC currently occupies 12.8 million sq. ft.

Project NExT, together with other planned related and affiliated academic and clinical additions, will bring that total to an estimated 16.1 million sq. ft. by 2028. UNMC, Nebraska Medicine and its affiliates accounted for a $6.4 billion economic impact in 2021. That impact is projected to grow to $8.3 billion by 2028. Combined, UNMC and Nebraska Medicine are Nebraska's largest employer.

The total cost of Project NExT is estimated to be nearly $3.1 billion. The project is funded by the federal government, State of Nebraska and City of Omaha, as well as private philanthropic and corporate contributions.

UNMC is already recognized as one of the leading hospital programs in the country, and UNMC experts are recognized internationally in infectious diseases, biopreparedness and emergency management. Due to its proven track record, the UNMC campus will act as the coordinating center for all five regional pilot program sites.

Locally, Project NExT will help UNMC better serve patients and visitors, recruit students and faculty, create thousands of new jobs in midtown Omaha and replace aging buildings and infrastructure. We are already seeing growth and transformation in midtown neighborhoods catalyzed by prior expansions of UNMC programs. However, Project NExT will accelerate activity in midtown many times over as more housing, services, amenities and transportation are needed to serve an influx of new employees as this historic, transformational project takes shape.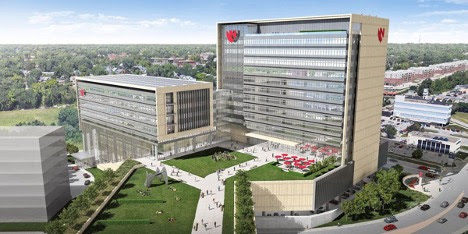 ******
Neighbors – stay on the lookout as construction continues in abundance in the neighborhood. Exciting projects are under way as our neighborhood grows. Yet that involves growing pains. Prolonged street closures can be especially annoying. Some neighbors have reported that illegal parking is an issue. Do not hesitate to contact the Mayor's Hotline when you see scofflaws.
Omaha Mayor's Hotline | 402.444.5555
Street Construction Problems & Complaints | 402.444.5220
---
Street Calming on Farnam Will Be Permanent with Streetcar Construction
The City of Omaha installed temporary changes to Farnam Street's Business District. This has proven to be effective in slowing down the automobile traffic on Farnam Street and allowing pedestrians to cross the streets more safely.

No accidents have occurred since the installation.

With upcoming developments, including the streetcar, these temporary changes will become permanent. Look forward to more announcements about these plans soon. This effort has been spearheaded by the Blackstone Business Improvement District.
---
Architectural Blast from the Past
First Central Congregational Church under construction prior to opening in 1922.
(From The Durham Museum Archives, Bostwick-Frohardt collection)

Have old photos of the Blackstone Neighborhood you would like to share? Send them to Mark Maser at rexgaynor@aol.com along with any information you know about image.
---
Blackstone Neighborhood Association
Blackstone Neighborhood Association
General Membership Meeting Minutes
January 24, 2023 | 6:30 pm
People Present: 28
Mark Maser, president, called the meeting to order at 6:40 p.m. at the First Central Congregational Church.

Guest Speaker:
Shelley McCafferty, City Planner-Historic Preservation, presented on historic preservation in our neighborhood. She showed maps and photos from the 1960s to illustrate what has been lost and how the neighborhood has changed. The Historic Preservation Act was passed in 1966, and Omaha's Historic Preservation Program began in 1977.

She discussed what the National Registry does and doesn't mean for properties. She pointed out that people like historical buildings and neighborhoods, that they are assets for economic development. She reviewed the process of getting registered.

There are currently 11 local landmarks in the neighborhood. There is an extra process that helps to protect them from demolition.

She reviewed the guidelines for new construction.

The Nebraska Historical Tax Credit has sunsetted. The Value Incentive Program freezes taxes for 8 years.

There are currently 70+ properties in the neighborhood eligible for local landmark status. They help to tell the story of the neighborhood, including the infill apartment buildings from the mid-twentieth century, which are now of an age to be eligible.

Neighborhood Construction Developments:
Charlie Sullivan, representing the proposed development at 3612 Leavenworth (currently an empty lot), showed us the building planned for that site. There will be 20-24 units at market rate, no subsidized. It will be 3-½ stories tall. There will be 20 parking stalls accessed off of the alley. The plan is to break ground at the end of summer. The proposal was generally well received by those in attendance.

President Mark Maser called the business portion to order at 7:41 p.m. when 25 people were present.

Minutes of the last meeting were approved unanimously.

Financial Report:
Curt stated that $50,000 was raised from the tour. We currently have $56,000 in the bank. The written financial report was unanimously approved.

Social:
Ron was thanked for hosting the holiday potluck party.

Preservation/Home Tour:
The final report from the Home Tour was presented by Mark Maser. Now we will work on encouraging property owners to locally landmark. Let us know if you'd like to landmark your property. Funds from the tour will help to support preservation. We will be working on ranking the properties we want to preserve.

Midtown Neighborhood Alliance:
Kathy reported that grant requests are due in April. There will be a new Retree program. We need a neighborhood committee to work on that. Let us know if you want a tree.

Blackstone Improvement District:
Matthew reported that all 38 acorn lights have new banners. The larger poles also have new, bigger banners too. 10 new trash cans will be placed in the spring. The streetscape project is in design mode. He feels there is good synergy between our two organizations. The street calming project has been effective and looks like it will continue until the streetcar in installed.

Adjournment:
The meeting was adjourned at 8:03 pm.
Respectfully Submitted,
Scott Jones
Secretary, Blackstone Neighborhood Association