From the Neighborhood
by Mark Allen Maser, president
Blackstone Neighborhood Association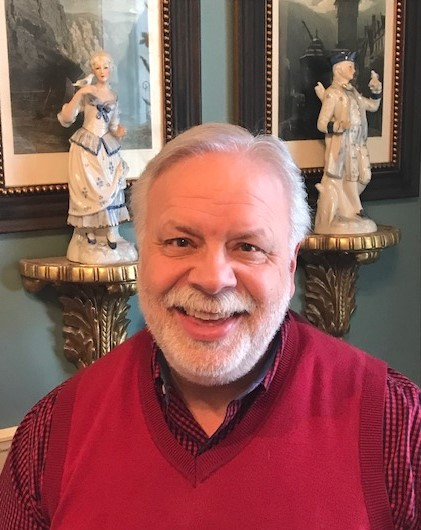 Neighbors & Friends Join Forces for Fundraiser: Historic Blackstone Revealed Architectural Tour Oct. 8-9
The Blackstone Neighborhood Association helps to foster its residents' pride of the historic buildings within our boundaries and to preserve the wonderful heritage and stories of those who have lived here before us.
I am pleased and proud to say I have been living in the Blackstone neighborhood for more than 30 years. While it doesn't really seem that long, I have found it nothing but enjoyable. 
As well, I have been a Blackstone Neighborhood Association board member since its inception. I am now honored to serve as president.
Our Blackstone neighborhood has seen quite a lot of changes in recent times. We can certainly discuss what we might think about them, but overall, our neighborhood is more vibrant and alive with possibilities. We know that's true because of the unparalleled interest by investors and developers. Our homes are snapped up in hours. Other properties are slated for redevelopment into condos, apartments, restaurants and retail stores. No other neighborhood in Omaha can boast such interest at the moment.
Amid change, our association has an opportunity to chart its course. To that end, we have launched this fundraising project, Historic Blackstone Revealed.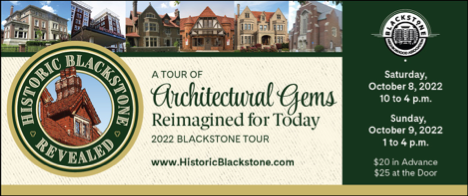 With the money raised, we plan to work with neighborhood residents and supporters to identify a priority list of properties that could be in danger of demolition or being significantly altered in the future. Once identified, proceeds from the fundraising tour will pay the professional fees to protect the properties by locally landmarking them. Currently, local landmark status is the only reviewed protection that saves a building from immediate demolition.
 
Our sleepy part of town has fast become a hot spot. Whether in the form of new buildings, a streetcar, or new residences, we can certainly expect change. And with that change, our Neighborhood Association must grow to meet the demand of our new neighbors and friends.
 
Your support of our Historic Blackstone Revealed Tour will help to maintain the character of our beloved Blackstone neighborhood.
 
Please click this link to become a member of the Blackstone Neighborhood Association. You will get updates on what is happening, and your voice can be heard.

Keep Up to Date by Visiting BNA's Website
This newsletter is one of the ways we hope to better communicate with our neighbors and friends. But our website, www.historicblackstone.com, has a lot of information as well. Take a minute or two to check it out!

Check out Blackstone's History on the Tour
You can support the neighborhood by purchasing tickets to the tour. A ticket allows you to tour Blackstone neighborhood properties that are usually off limits. Also, special events surrounding the tour give you a chance to learn more about the history of the neighborhood from those who lived it. See below for more information.
 
Tickets
Reduced price advance sales END at midnight Thursday, Oct. 6. Get yours before they are full price Saturday, Oct. 8, and Sunday, Oct. 9, at https://historicblackstone.com/store.

Special Thanks to our Hardworking Historic Blackstone Revealed Steering Committee
Kristine Gerber | Chair
Mark Maser | Chair
Barb Farho | Sponsorships
Kate Grabill | Events
Nicole Malone | Logistics
Rhonda Stuberg | Logistics
---
Historic Blackstone Revealed Updates
by Kristine Gerber
The Historic Blackstone Tour Committee has been hard at work planning the Oct. 8-9 tour. And now it is almost upon us. Marketing for the tour is in full force.See below for a flier you are welcome to share.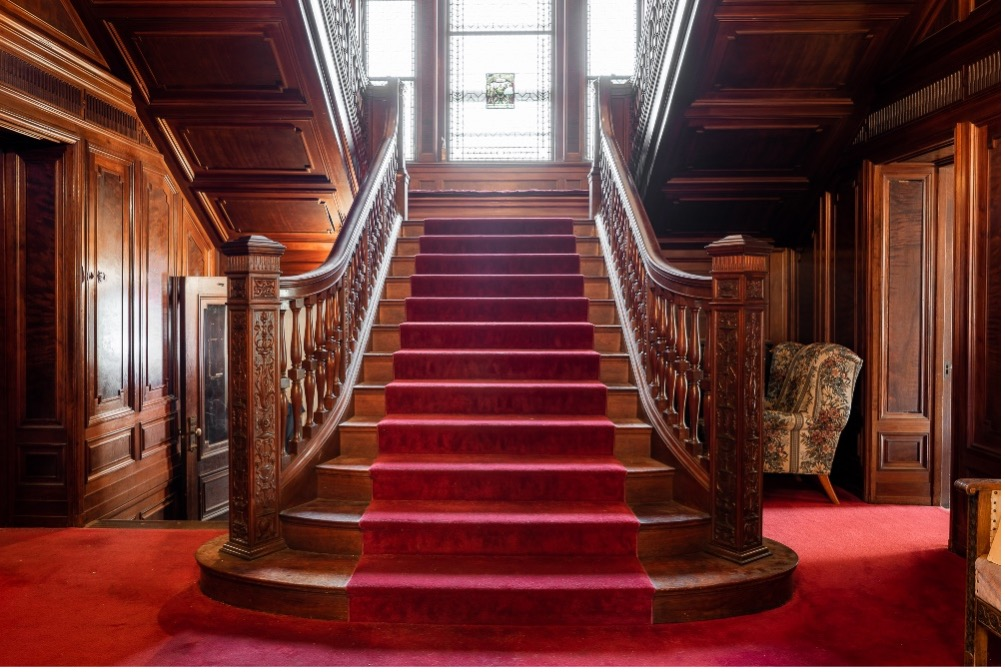 We also encourage you to like and share the Historic Blackstone Revealed Facebook page. On the new Blackstone Neighborhood Association page, HistoricBlackstone.com, you can now purchase tour tickets. Tickets are $20 in advance on the website. Tickets will be $25 at the door during the tour on October 8 & 9.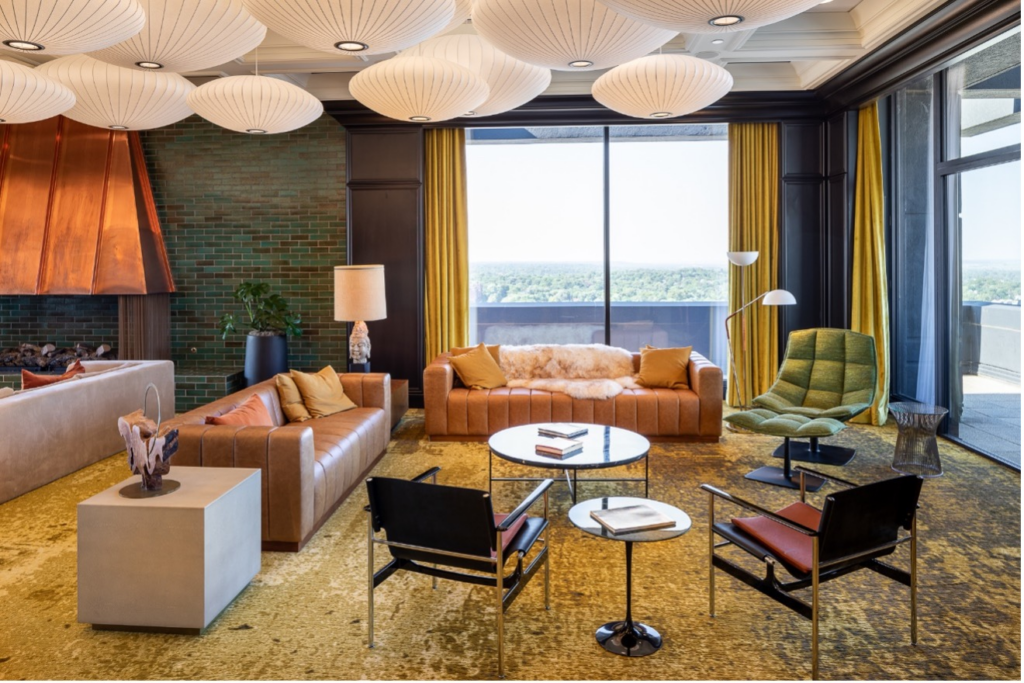 There are several ticket options, including our Golden Ticket, which offers:
One ticket to Mary Schimmel Bernstein brunch Sunday, Oct. 9 (details below and on the website)
2 tickets to our Oct. 7 Patron Party in the newly renovated Cloud Room on the top of the Blackstone Plaza building
Free reserved tour parking
A fast pass to get you in the front of the tour line at any of the tour locations.
Kristine Gerber is heading Marketing & Historical Research for Historic Blackstone Revealed.
Her team includes:
Kristine Gerber, chair
Rachel Bythwood
Katie Foster
Teresa Gleason
Melissa Obermier
Tim Reeder
Wendy Wiseman
Patrick Wyman
SPECIAL EVENTS
Two tour-related special events share the history of the Blackstone neighborhood. "The history of our neighborhood is being brought to life with our two notable speakers, Mary Creighton McDermott Maxwell and Mary Schimmel Bernstein," said Special Events Chair Kate Grabill.
Luncheon with Mary Creighton McDermott Maxwell
On Sept. 19, Mary Creighton McDermott Maxwell (pictured at right) spoke to a sold-out crowd about her life in the Gold Coast's Blackstone area as she grew up in the Cudahy Mansion at 37th and Dewey.
Mary shared stories of growing up in the Blackstone neighborhood, including the maypole dances held in the front yard of her home at 504 S. 37th Street (pictured below).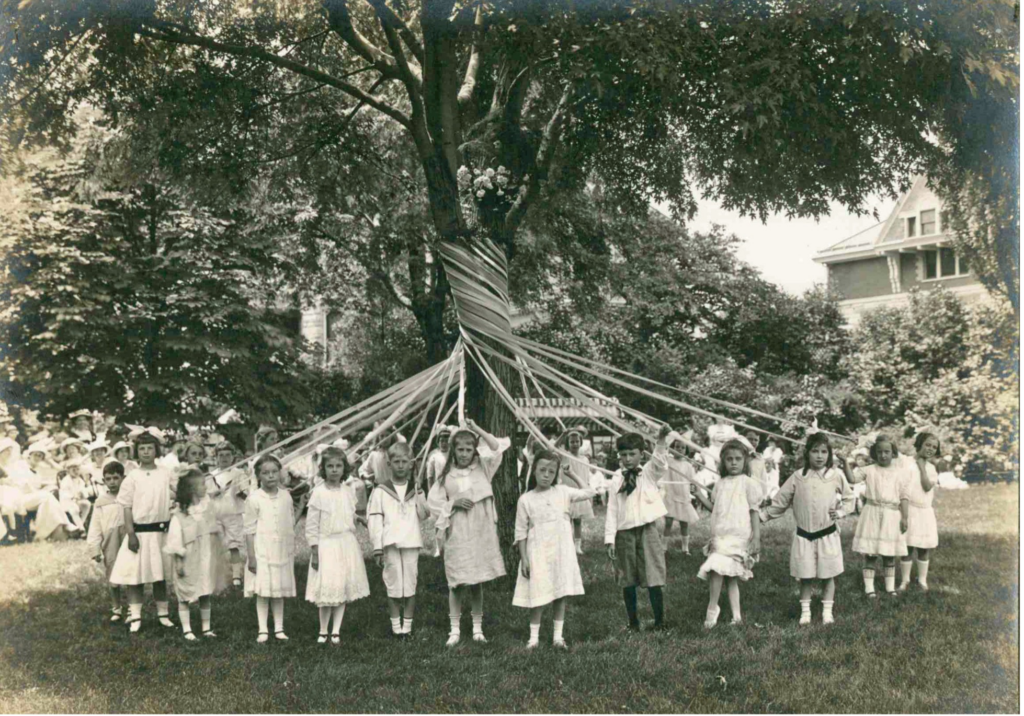 Luncheon guests were served Reuben sandwiches with Caesar salad in the top floor Schimmel Ballroom, which features panoramic views of Blackstone and Omaha. (Pictured at right are Kristine Gerber, Mark Maser, Mary Maxwell & Kate Grabill at the Cottonwood Hotel.)The Kimpton Cottonwood Hotel, previously the Blackstone, is a generous sponsor of Historic Blackstone Revealed.

Following the lunch and Maxwell's talk, guests heard briefly from the architects about the hotel's transformation before embarking on a tour hotel highlights.
 
"Mary Maxwell was raised in the Gold Coast Neighborhood amongst Omaha's industry and civic leaders," Grabill said. "Her family was visited by dignitaries, even U.S. Presidents. Mary's stories, always humorous, were a treat for guests at the luncheon."
Cottonwood Hotel Brunch and Tour with Mary Schimmel Bernstein
Sunday, Oct. 9, 2022
Kimpton Cottonwood Hotel
10am to 12:30pm

"As a young woman, Mary Bernstein's father was named executive chef at the Blackstone Hotel. She will share her experience and memories of the Blackstone, now Kimpton Cottonwood Hotel, during its first heyday and her own career as a professional event planner," Grabill said.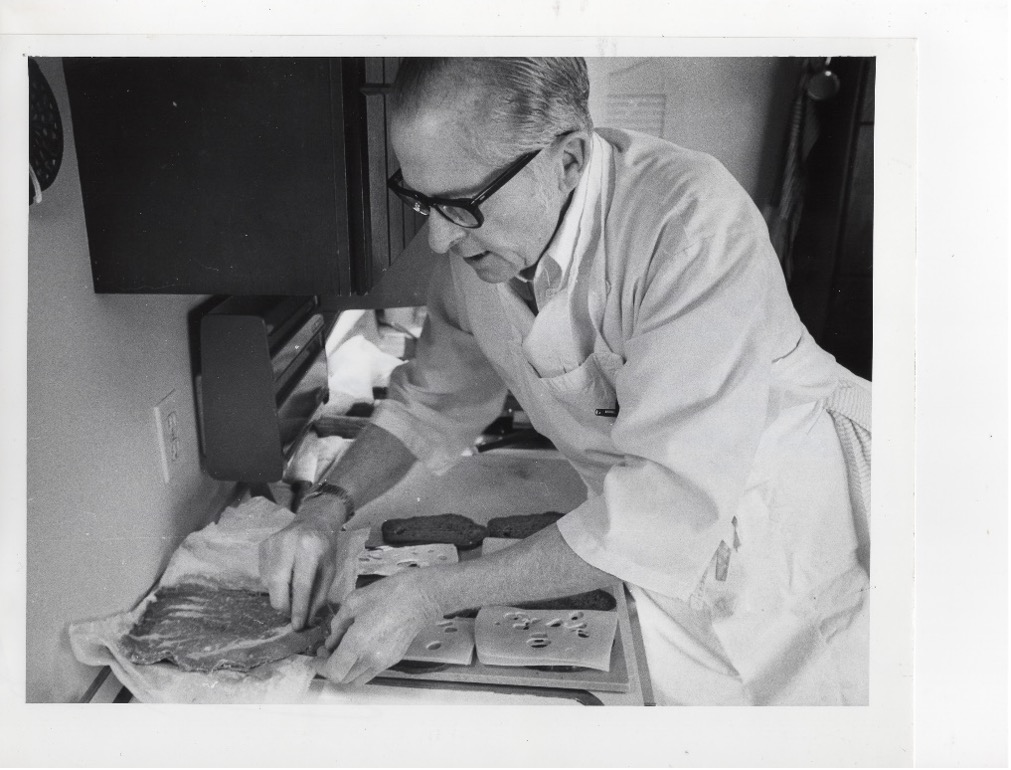 A Schimmel through and through, Mary will delight guests with her stories of celebrities, events and even the Reuben sandwich at a brunch held Sunday, October 9th. Tickets are limited and include a behind-the-scenes tour of the hotel. The ticket price is $100.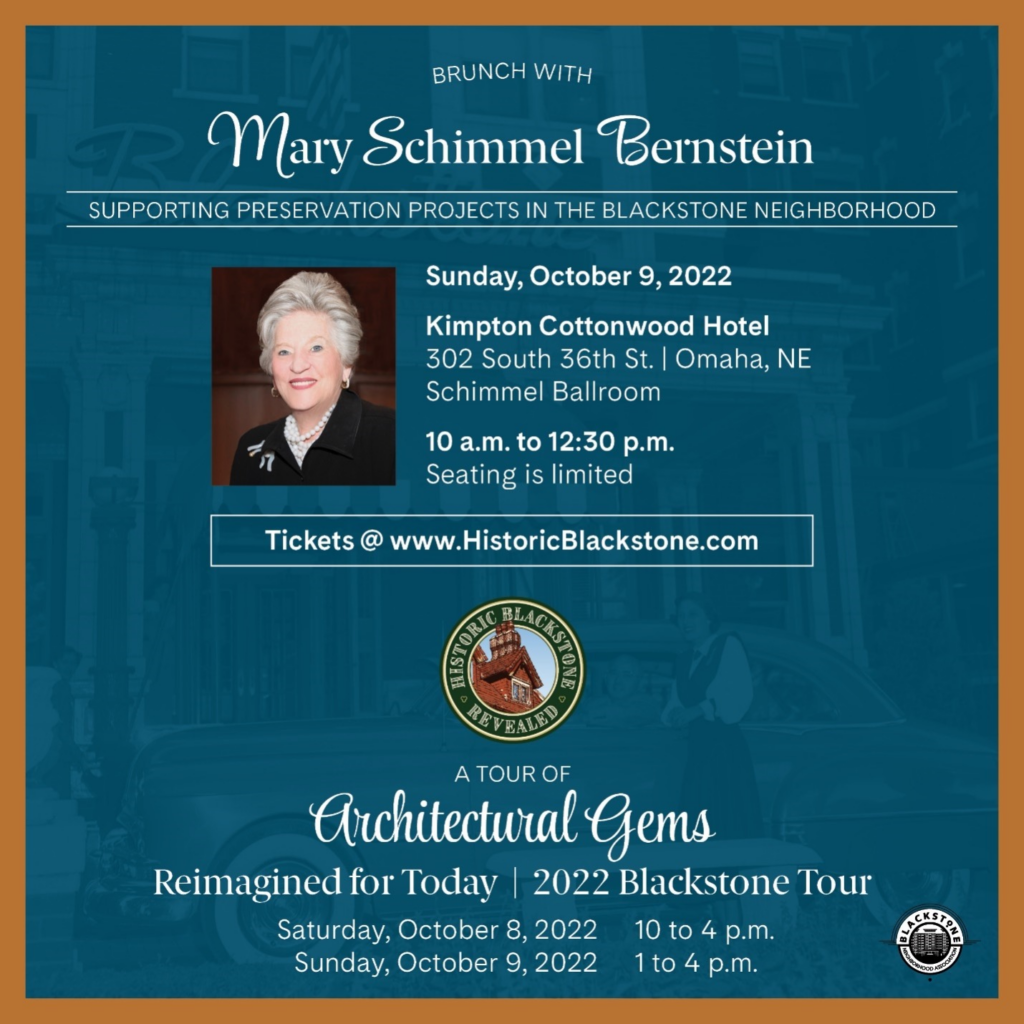 Kate Grabill is chair of the Events for Historic Blackstone Revealed. Her committee includes:
Kate Grabill, chair
Jennifer Bettger
Fatima Basith
Kate Brownrigg
Jessica Covi
John Fox
Victoria Halgren
Stephanie Hansen
Angie Hempel
Jeanie Jones
Suzanne Kotula
Cydney Koukol
Beth Kramer
Gabby Mormino
Karen Nelson
Christine Nikunen
Rhonda Wachholtz
Tickets can be purchased at www.historicblackstone.com.
VOLUNTEERS
We are pleased that so many friends and neighbors have volunteered to help during the tour, which provides a wonderful opportunity to get to know your neighbors and support the neighborhood association. We are still looking for 40 people to help. Volunteers will work 3-hour shifts taking tickets and guiding attendees through the spaces. All volunteers working a shift receive a free tour ticket

This is going to be an incredible event to support the neighborhood. If you haven't already, please consider playing a part in helping make it happen.

Nicole Malone is chairing the logistics committee for Historic Blackstone Revealed. Her committee includes:
Nicole Malone, chair
Judy Alderman
Dana Flint
Nathan King
Sherri Moore
Deb Peterson
Rhonda Stuberg
THANK YOU, SPONSORS
Our project wouldn't be successful without such widespread support.
Kimpton Cottonwood Hotel
City of Omaha
Steve Martin & Amy Haddad
Maser Family Foundation
Lund Corporation
Midtown Neighborhood Alliance
Dundee Bank
GreenSlate
Suzanne & Rudy Kotula
Tim Reeder/Better Homes & Gardens Real Estate
Better Homes & Gardens Real Estate
Mutual of Omaha
Noddle Homes
Security National Bank
UNMC
John Fox Design
Nebraska State Historical Society Foundation
If you can help support our efforts, please donate at this link:Preservation Project – Blackstone Neighborhood Association (historicblackstone.com)

THANKS & GRATITUDE
Property Owners
The Stuberg Family
The Maser Family
The Banse Family
The Farho Family
Phi Chi Medical Fraternity
First Central Congregational Church
Dundee Bank
The Lund Company
Kimpton Cottonwood Hotel
Special Help
Mary Maxwell, Luncheon Speaker
Mary Schimmel Bernstein, Brunch Speaker
Martin Janousek, AIA Luncheon/Brunch Speaker
David Hawes, AIA Luncheon/Brunch Speaker
Jay Lund, Luncheon and Brunch Speaker
Midtown Montessori, Parking
University of Nebraska Medical Center, Parking
Lund Corporation, Parking
Peggy Pavlik, Midtown Neighborhood Alliance
Diana Failla, Midtown Neighborhood Alliance
---
It Takes A Village
Our villagers have been busy lately. Thanks are due to them for volunteering and making our neighborhood better.
And all our thanks to the Blackstone Neighborhood Association Executive Committee. Their generosity of service to our neighborhood must be noted. You will find them listed in this newsletter.

Our thanks to Teresa Gleason, neighborhood art dealer and communications professional, for her help with this newsletter and many more projects. Find her at info@polecatcommunications.com.

We need your help. We can always find a way to work together. But we especially could use you if you have experience with:
Graphic design
Website maintenance and technical wizardry
Social media
Newsletter article & story writing
Historic research
Social events
Beautification projects
Preservation projects
Please become a member of the Blackstone Neighborhood Association. You will get updates on what is happening, and your voice can be heard. Find more information about how to join at the bottom of this newsletter or click on the following link:

Membership – Blackstone Neighborhood Association (historicblackstone.com)
---
Neighborhood News
Farnam Fest On Second Saturday, Oct. 8


Join us Saturday, Oct, 8th from 2-11pm for a block party blast in The Blackstone District! Farnam Fest will be shutting down Farnam Street at 39th to 40th for an adult day of good times!
🦮 Dog Show @2:00pm
🐝 Adult Spelling Bee* @4:00pm (*Be prepared for beer-trivia style)
💿 @DJCrabcrangucci @5:00pm
🎙 Artist + Makers Market from 2:00-7:00pm
@SecretWeapon @7:00pm
👠 DRAG SHOW!!! @9:00pm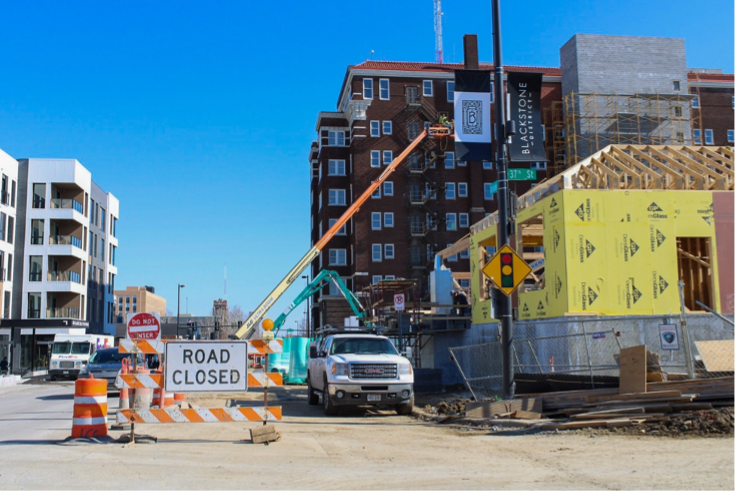 Neighbors – stay on the lookout as construction continues in abundance in the neighborhood. Exciting projects are under way as our neighborhood grows. Yet that involves growing pains. Prolonged street closures can be especially annoying. Some neighbors have reported that illegal parking is an issue. Do not hesitate to contact the Mayor's Hotline when you see scofflaws.
Omaha Mayor's Hotline | 402.444.5555
Street Construction Problems & Complaints | 402.444.5220
---